All News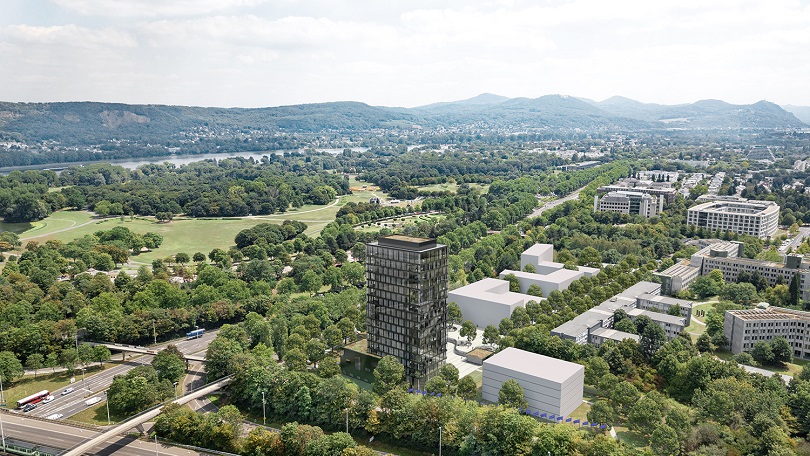 The BMDV is the ministry responsible for meteorology and earth observation. On the 1st of October the BMDV has submitted the German proposal to host the new ECMWF location for the EU-Programmes in Bonn.
In making this application, Germany wishes to endorse and actively support the ECMWF's excellent work, great commitment and success in the EU Programmes and invest in the cooperation between Member States. Opting for Bonn will give ECMWF and its Member States an additional location that is an ideal fit for their requirements.
Access Bonn at the heart of Europe: a hub for excellent science and for green politics, an economic powerhouse with its traditionally international and cheerful atmosphere. Bonn is a great place to both life and work.
Highlights of bid
New ECMWF Campus
Germany is offering to build a new office campus tailored to the needs of the ECMWF which will feature an iconic tower, winter gardens, a conference centre including a lecture hall, a courtyard canteen, and kindergarten. The campus will be sustainably designed and maintained and comes complete with furnished office space and state-of-the-art technology. On each floor the layout can be reconfigured according to need – as single office and meeting rooms, or for open plan working.
The new ECMWF campus will be provided rent free with operational costs covered for the first 5 years. After these 5 years Germany will continue to bear the cost of the conference facility.
Interim office accommodation, which includes free access to conferencing facilities, will be provided rent-free next door to the new facility.
Relocation support
The relocation costs of ECMWF staff moving to Bonn will be covered by the government of North Rhine-Westphalia. Free advice and support from the City of Bonn on finding schools, jobs for partners and housing, as well as dealing with official matters (registration, driving licenses etc.) will be provided to staff via a dedicated support office. The ECMWF staff will benefit from more than 20 years of the city's experience on supporting staff of the United Nations as well as the internationally active scientific and research institutions and companies.
Optimal Scientific Synergy
The Bonn area with the world-class Universitiy of Bonn and the University of Cologne together with the Forschungszentrum Jülich and the RWTH Aachen University offers an excellent and comprehensive scientific environment which has an outstanding potential for synergy and collaboration for all of ECMWFs research objectives.
The highlight is the recently established Center for Earth System Observations and Computational Analysis (CESOC), which intensifies the long lasting cooperation in the Bonn region. In the centre of attention of CESOC is the preparation of a digital Earth model (digital twin). As such the CESOC can act as a gateway for ECMWF-to all relevant research networks in the region.
Bonn being the location of numerous United Nation agencies and NGO's related to climate change and due to its closeness to Brussels offers a unique opportunity for dialogue with users.
Science staff programmes
ECMWF is offered to set up a permanent staff pool paid for by Germany. ECMWF can staff three scientific positions to facilitate the integration of ECMWF in the surrounding science landscape. Additionally, the ECMWF will be supported in inviting international guest researchers (International Faculty Programme) and in joining the Joint Chair Programme of the Universities of Bonn and Cologne.
The City of Bonn
Those new to Bonn are instantly struck by its welcoming atmosphere and the warm and friendly nature of the locals – the Rhineland spirit of cheerfulness and tolerance is known throughout Germany. Local residents from about 180 countries, live, work and socialise together.
Life in Bonn is lived in high contrast. You'll find a vibrant, international city with small village charm, where tradition and history live side by side with cosmopolitan attitudes and modern technology.
This mixed bag represents the best of all worlds; a relaxed atmosphere in idyllic settings. Bonn is a great place to both live and work.
A hub for green politics
After half a century as a capital city, Bonn remains Germany's second seat of power and the primary location of six federal ministries. Additionally, various public bodies, such as the Joint Science Conference which decides national science policy, have their headquarters in Bonn.
UN bodies on climate change, biodiversity, species conservation, desertification, and the SDG Action Campaign are located in Bonn (among many others), alongside a dense network of NGOs, universities, research institutions, and businesses working together to safeguard the environment. The UNFCCC secretariat is situated at Bonn's UN Campus and the conferences of the Subsidiary Body on Scientific, Technical and Technological Advice (SBSTTA) of the UNFCCC are regularly held here.
Germany's economic powerhouse
Bonn's lively startup scene sits alongside its major global corporations, including DAX top companies Deutsche Post and Deutsche Telekom and household brands like Haribo. In fact, jelly babies were invented here in 1922 and the 'bo' at the end of Haribo stands for Bonn. The local jobs market is robust and varied. Each year, 2,500 new jobs are created in the city – mostly in the service sector- and there is a high demand for international expertise. Bonn sits in the federal state of North Rhine-Westphalia, which last year generated the highest GDP of any state in Germany at € 711 bn. At commutable distances also Cologne, Dusseldorf and Frankfurt offer a variety of jobs.
A city of music and culture
Bonn's rich history stretches back more than two thousand years and can be explored through various historic sites in and around the city. The "museum mile" in the international district attracts two million visitors each year. It includes a natural history museum, an art and culture exhibition hall, a museum for post-war German history and a science and technology museum. Twenty additional museums and art galleries, including the birthplace of the renowned composer Ludwig van Beethoven, can be found in and around the city centre. The Beethoven orchestra, theatre and opera offer year-round programmes. There are also a range of pop, rock and electronic music concerts and festivals. In addition there is a packed calendar of multicultural and traditional festivities, from the Internationales Begegnungsfest – a street party celebrating Bonn's diversity – to Christmas markets and Carnival parades.
A beautiful place to be
The city of Bonn sits on the banks of the Rhine among idyllic green surroundings Steeped in 2,000 years of history stretching back to Roman times, Bonn and the surrounding region are a treasure trove of ancient sites,impressive architecture and stunning scenery. Nature lovers can explore 40 km² of forest in the nearby Kottenforst and the 100-km² Eifel National Park. Beginning in Bonn, the picturesque Middle Rhine Valley is surrounded by forested hills topped with castles and includes cycleways, hiking routes, vineyards and quaint towns and villages along the route of the river. The Siebengebirge hill range (112 km²) is just a 15-minute drive away, offering stunning views, historic attractions and traditional guesthouses. Bonn itself is filled with green spaces – 80,000 trees line the city's streets, there are 24 parks and large areas of land are forested.
Easy Access
Short distances, 300 km of cycle paths and a regular and reliable public transport system allow short travelling times of less than twenty minutes to get anywhere within the city. This convenience is valued by local residents and contributes to Bonn's high quality of life. The ECMWF can arrange for staff to receive subsidised season tickets valid 24/7 for journeys by bus and train for the entire Bonn/Cologne region.
Bonn is at the heart of Europe and very well connected via a developed transport infrastructure (including high-speed rail, a dense motorway network and three nearby airports – Cologne, Dusseldorf and Frankfurt) to ECMWF facilities and key partners in Brussels, Darmstadt, Noordwijk and beyond.
Easy living in Bonn
Bonn's property market offers a wide range of homes at reasonable prices, from family-friendly new build apartments in the suburbs, to ostentatious art nouveau mansions in the buzzing centre. Bonn is also an affordable city with an active and varied housing market – around 2,500 properties are put on the market each year – ensuring a quick and easy transfer for ECMWF staff. Rents in Bonn are low by European standards (it is the second cheapest UN location in the EU). Long-term lets are common throughout Germany thanks to strong tenant rights and rent controls.
Variety of Schools
Bonn is a city with a young population and is renowned for its family-friendly qualities. Bonn offers several international schools within a ten-kilometre radius around the ECMWF campus, such as Bonn International School (BIS), recently extended, Independent Bonn International School (IBIS) and the Franco-German primary school École de Gaulle-Adenauer. In Bonn, pupils aiming to go to university have the opportunity to take the German school-leaving examination and university entrance qualification (Abitur). Alternatively, they can study for another national (e.g. General Certificate of Secondary Education (GCSE) or international qualification (such as the International Baccalaureate or the French version)).
In addition, there are a large number of state schools in Bonn that offer the French Baccalaureate or the International Baccalaureate (IB). The city of Bonn is also connected at a supraregional level along the Rhine corridor, so that the school-based international offerings of the neighbouring cities are also available for children and young people of school age as well as their families.
As part of the welcome service, the city of Bonn provides help with finding a place at a school or day-care centres. For example, the city of Bonn, together with schools, kindergartens and day care centres, offers information days for ECMWF employees. Corresponding events will also be held at the ECMWF facility.
Broad range of Kindergarten and child care
Germany's offer for a new ECMWF facility in Bonn includes the construction of a kindergarten/ day-care centre in the immediate vicinity of the facility.
The city of Bonn offers more than 13,000 well-equipped childcare places in the 214 publicly funded day-care facilities . In addition, there are 700 places in 15 privately run facilities. For children aged between four months and six years, there are eight international kindergartens and several bilingual company day-care centres available in Bonn.
As part of the welcome service, the city of Bonn provides help with finding a place at a school, day-care centre; for example, the city of Bonn, together with schools, kindergartens and day care centres for children, offers information days for ECMWF employees. Corresponding events will also be held at the ECMWF facility.
The new ECMWF campus
The new facility will be constructed in Bonn's international quarter close to the UN Campus and directly next to the beautiful Rheinaue Leisure Park. The site is well connected by cycle lanes as well as bus and tram networks, offering frequent and short connections to the city centre which is only 4 km away.
The campus features a signature tower, a conference venue, a lecture hall, a courtyard, a staff restaurant, a gym, an underground car park, secure bike stands and a day care centre.
The iconic main glass tower – to be completed in 2026 – will have 16 storeys, offering space for up to 365 staff. The fully furnished and equipped office floors are designed to offer flexibility with regard to how the space is used (open-plan or with a higher number of smaller offices). Meeting rooms come fully furnished and equipped with audiovisual systems.
The conference venue consists of an auditorium and a multifunctional event space. The auditorium has fixed raked seating for 300 people and a side control room for the operation of lights, sound and presentations. The multifunctional event space accommodates up to 250 visitors and features interpreting booths.
Access to excellent science
In Bonn, the ECMWF benefits from the very favourable central location in Europe as well as from the high density of scientific institutions in the immediate surroundings of the new location. The ECMWF will from the beginning have easy access to an international network of a wide range of highly skilled experts and institutes for all of its strategic development objectives.
Bonn, Cologne, Jülich and Aachen as a common science region
Three of Germany's largest universities are based in Bonn and in its immediate vicinity: the University of Bonn, the University of Cologne, and RWTH Aachen University, as well as many non-university research centres, such as the Forschungszentrum Jülich, the Fraunhofer SCAI or DLR.
International cutting-edge research is conducted in several sectors that are important to the ECMWF. Prominent examples are mathematics in Bonn (ranked among the top 50 in the worldwide Shanghai Ranking and the leader in Germany), geosciences and geography in Cologne (second and first respectively in Germany). The University of Bonn and RTWH Aachen are two of the eleven designated German Universities of Excellence. Three of their excellence clusters are of special relevance to ECMWF- they focus on mathematics, high-performance computing and agricultural sciences. Forschungszentrum Jülich operates high-performance computing towards exascale and links with applications in the field of meteorology and climate.
The geographical proximity of the institutes, which are in the immediate vicinity of the ECMWF's new location, have fostered the establishment of strong collaborative schemes and teaching networks in the different research areas, such as Geoverbund ABC/J , which comprises all geoscientists in the Aachen, Bonn, Cologne and Jülich region, and the Center for Earth System Observations and Computational Analysis (CESOC), which focuses on the physical, mathematical and biogeochemical modelling of the coupled Earth system connected to innovative observations.
Center for Earth System Observations and Computational Analysis (CESOC)
The ECMWF can benefit from the recently established Center for Earth System Observations and Computational Analysis (CESOC), which was founded in 2020 by the University of Bonn and the University of Cologne as well as Forschungszentrum Jülich. It combines the scientific priorities that exist in the region and is essentially aligned with the strategic goals of the ECMWF.
The centre of attention of CESOC is a digital Earth model (digital twin), by means of which environmental monitoring and crisis management can be considerably improved through HPC, big data, optimisation, data analysis and AI methods. The required physical, mathematical and biogeochemical modelling of the coupled Earth system will be connected with new observation techniques in order to quantitatively determine the modelling's degree of realism and to significantly enhance it; new information technology and mathematical methods for the development of operational forecasts will also be involved. Part of CESOC's research strategy is to comprehensively observe, understand and forecast the Earth system in times of global environmental changes.
CESOC fosters excellent research and innovative methodological approaches as well as young scientists in environmental and natural sciences and related fields. For this purpose, the ongoing partnership in teaching will be strengthened by introducing common degree courses.
In the three locations (Bonn, Cologne, Jülich), several working groups are dealing with the relevant research topics in the sectors of meteorology, atmospheric chemistry, hydrology, climatology and palaeoclimatology, soil sciences and near-surface geophysics, plant and agricultural sciences, geodesy, remote sensing (including oceans), geospatial information as well as mathematics, computational science and information technology. Thus, CESOC is closely linked to numerous European infrastructures in the fields of Earth system observation and high-performance computers, which can be used by the ECMWF.
The aforementioned research goals of CESOC perfectly supplement the strategic development trajectories of the ECMWF. Therefore, CESOC is to be considered an ideal partner of the ECMWF in Bonn and a central "gateway" to the University of Bonn and the University of Cologne as well as Forschungszentrum Jülich.
For this reason, the accompanying additional supply of staff by Germany is especially intended to enable and strengthen the cooperation between the ECMWF and CESOC.
Access to customers and users
As the UN site for environment and climate issues, Bonn offers a great potential for dialogue with users. It also boasts a very large number of offices of non-governmental organisations in the climate and sustainability sectors.
Among the opportunities for cooperation with the UN, the UNFCCC secretariat (UN Climate Secretariat), is top. The ECMWF is one of the most important suppliers of reliable climate data for the UNFCCC, particularly with the Copernicus Climate Change Service (C3S). The geographical proximity can considerably intensify existing cooperation and strengthen the partnership between the ECMWF and the UNFCCC. Furthermore, the conferences of the Subsidiary Body on Scientific, Technical and Technological Advice (SBSTTA) of the UNFCCC are regularly held in Bonn. These conferences are important events for the exchange of up-to-date research findings and climate change policy issues.
In addition, many other synergies with the UN agencies in Bonn are conceivable, for example with the UNCCD secretariat, the Bonn branch of the UN Office for Disaster Risk Reduction, the United Nations UN-SPIDER programme.
Overall, the numerous UN agencies in Bonn offer a unique opportunity for the ECMWF to directly interact with international user organisations and key stakeholders related to climate change, sustainable development goals and climate mitigation and adaptation.
As the new facility is supposed to host the Copernicus Services and other EU projects, short travel times to Brussels is also a major benefit of being based in Bonn.
Access to wider national and international science
Within a radius of only a few hundred kilometres not only national but also international relationships with relevant scientific institutions in the Netherlands, Luxembourg, Belgium and France can be cultivated and strengthened especially in the field of the CAMS and C3S Copernicus services.
The geographical proximity of Bonn to Darmstadt, Paris and Nordwijk would make it possible for ECMWF to further intensify its scientific cooperation with the European Organisation for the Exploition of Meteorological Satellite Data (EUMETSAT) and European Space Agency (ESA), by enabling a close feedback process as well as a close alliance between the three institutions especially in the field of Copernicus. This would enable optimum use of the European satellite infrastructure.
In Germany, there are many other scientific institutions that are close to Bonn and active in the strategic fields of the ECMWF/ Copernicus and may be options for synergies and collaborative schemes. They include, amongst others, Germany's National Meteorological Service in Offenbach, Max Planck Institute for Meteorology (MPI-M) in Hamburg, German Aerospace Center (DLR) in Bonn, Cologne, Oberpfaffenhofen and other cities, Alfred Wegener Institute (AWI) in Bremerhaven and Potsdam, Karlsruhe Institute of Technology (KIT) in Karlsruhe, Max Planck Institute for Chemistry (MPIC) in Mainz, Johannes Gutenberg University Mainz.
As the new facility is supposed to host the Copernicus Services and other EU projects, short travel times to Brussels is a major benefit of being based in Bonn.
Optional offer: ECMWF Activity Nodes
Facilitating the ECMWF's access to Member States' expertise in a multi-site environment an ECMWF Activity Node (EANode) concept has been developed by the Finnish and German government. The concept shows the creation of small but efficient EANodes designed to connect the ECMWF multi-sites with specific Member States' expertise. EANodes are dedicated centres of scientific excellence hosted by an institute of a Member State of ECMWF and closely connected to ECMWF. The EANodes are embedded in an existing scientific infrastructure and could be equipped with local ECMWF staff as focal point as well as with additional support offered by the host institute.
This concept could pave the way for new kind of ecosystem following the European idea which will drive for innovation and value creation based on ECMWF and Copernicus data. An ECMWF Activity Node strengthens the build-up of a digital network in the Copernicus framework which is one of the key pillars of the EU's Digital Europe strategy.
As a starting point, Finland and Germany offer the opportunity of setting up an EANode in Helsinki to bring in the Finnish expertise. If this concept is of interest to the ECMWF and its member states, it could be additionally adopted by ECMWF and it Member States as an optional part of the German proposal.
For more information please refer to pgs. 20 and 21 of the brochure.