all press releases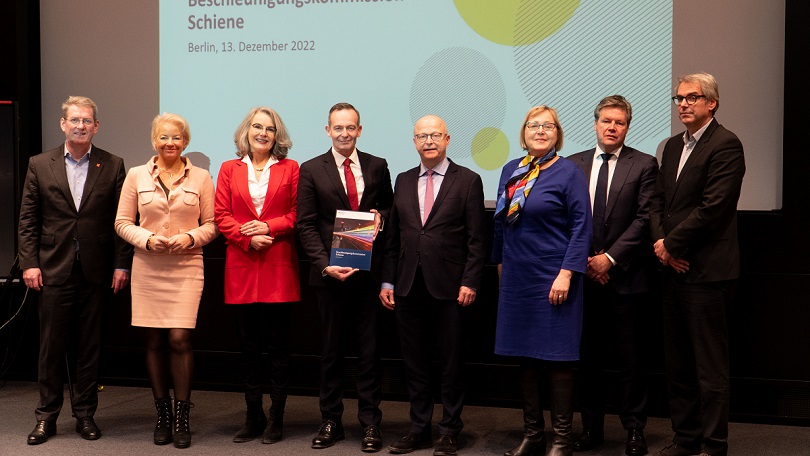 Federal Minister Dr Volker Wissing presented the final report of the acceleration commission for the railways in Berlin today. Representatives from across the entire railway sector have developed 70 specific recommendations for action in five fields. These recommendations are to be reviewed and implemented as soon as possible.
Federal Minister Dr Volker Wissing:
We are rehabilitating the dilapidated network, accelerating new construction and upgrading to realize the Deutschlandtakt and digitalizing the system to achieve the passenger goals we have set ourselves. These are all necessary but also time-consuming and far-reaching interventions to rehabilitate the railways. However, there is also a need for quick first aid measures, which is what many of the recommendations developed by the experts target. We are taking things from practice to implementation. Now, the Federal Government has to quickly agree on appropriate proposals, flesh them out and start implementing them.
The commission's proposals, which will be reviewed by the Federal Government, can be broken down into three packages:
Operational adjustments in the construction and uses of the railway network:
This includes small and medium-sized measures that can quickly make an effective contribution to increasing resilience and punctuality in the network, e.g. alignment planning or capacity utilization. In construction, there is also room for improvement regarding automation. Effective large machinery, which can reduce the time needed to complete a measure by 50%, must be approved faster and used systematically. Partnership models are to motivate all stakeholders to use their expertise for faster and more cost-efficient project delivery.
Legislative adjustments:
The commission recommends reducing the scope and duration of approval procedures for small and medium-sized measures. The experts believe that leaner structures are required for new switches, longer passing tracks or electrification of rail infrastructure. Enshrining the priority of infrastructure in the Basic Law, for instance, is to significantly simplify land use and spatial planning processes. They also propose a modern railways act to significantly accelerate the digitalization and electrification both in terms of financing and legal planning approval.
Regulatory policy adjustments:
The acceleration committee reaffirms the path taken by the BMDV in reorganizing the DB Group with a public welfare-oriented infrastructure company and a simpler financial architecture.
The full final declaration is available here (German only):
https://bmdv.bund.de/abschlussbericht-beschleunigungskommission