all press releases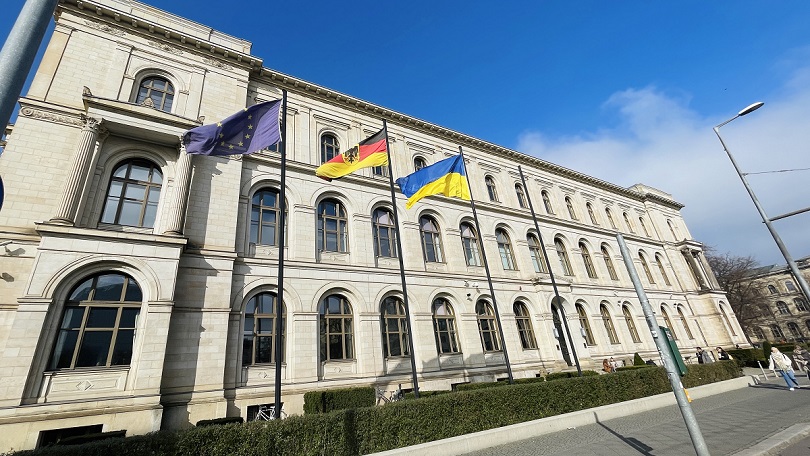 On the sidelines of the G7 Digital Ministers' Meeting in May 2022, the Federal Minister for Digital Volker Wissing assured the Ukrainian Vice Prime Minister and Minister of Digital Transformation Mykhailo Fedorov that Germany would support Ukraine in its efforts to boost digital resilience and transformation and ensure the continued operation of digital infrastructures.
To make good on this promise, a pilot project was developed in close coordination with the Ukrainian Ministry of Digital Transformation which is now being implemented by the German Society for International Cooperation (GIZ) on behalf of the Federal Ministry for Digital and Transport. The Federal Ministry is making around 600,000 euros available for this purpose until the end of March 2023.
Dr Volker Wissing, Federal Minister for Digital and Transport:
Since Russia started its war of aggression, Ukraine has been showing the world every day how strong, brave and resilient the country and its population are. When we met in May, I promised my Ukrainian colleague that Germany will continue to support Ukraine. We will continue to strengthen their impressive digital transformation and digital resilience. At the same time, we want to back up the independence of Ukraine as a place for business and investment and support the country in its role as a strong partner in an international exchange. I am convinced that in our international community of shared values, we can learn from Ukraine's experience and digital solutions.
On the basis of the Ukrainian Ministry's feedback as to what needs exist, the following objectives were defined for the support project:
The lessons learned by Ukraine in the digital transformation of its government should be documented systematically and made available for use by third parties.
The Ukrainian Digital Ministry is to be supported in its first steps towards developing an action plan on digital transformation and a business model for providing advice to third states in the field of e-government.
The Ukrainian Digital Ministry is to be supported and strengthened in an international exchange in order to also be able to learn from international standards. Especially cooperation with the civil society is to be strengthened in the process, too.
On behalf of the Federal Ministry for Digital and Transport, the GIZ will specifically support the Ukrainian Digital Ministry in the following areas:
Advice and support on technical documentation of digital solutions
Despite the war, the Ukrainian government has been fully functional thanks to the digitalization of its services. Its core product is the DIIA e-government platform and app. With its digital services, Ukraine can pass on its knowledge to support the digital transformation in other countries. Although most digital tools and services of Ukraine are based on open source technologies, there is no adequate technical documentation. Such documentation would enable other countries to implement the Ukrainian solutions, on the one hand, and enable Ukraine to speed up its digital evolution as more players and businesses could work on the systems. The GIZ will therefore support Ukraine in identifying the most relevant digital tools and services and in preparing technical documentation that allows for multiplication, adaptation and scaling.
Trilateral cooperation to strengthen and export Ukraine's digital skills
Ukraine wants to provide advice to other countries on how to introduce and use e-governance services. It also wants to supply its electronic governance solutions to other countries as software as a service (SaaS). The basis for this is a business model which is tested with real, actual use cases. The GIZ will support Ukraine in this undertaking by providing advice and assisting in the preparation of a benchmark study.
Advice on international digital policy and preparation of a road map towards an alignment with European standards
Ukraine would like to enhance its role as a digital nation and find innovative solutions for the regulation of digital transformation in Ukraine. To do so, the Ministry for Digital Transformation seeks an exchange with international partners. The GIZ will provide guidance on various approaches and exchange formats and help Ukraine to better adapt to the European standards and analyse its current systems in this respect.
Advice on internet governance and international digital cooperation
Ukraine intends to introduce a more participatory approach for shaping policies in the field of internet governance. On the basis of an exchange with players from the civil society, the scientific community, the private sector and various ministries, Ukraine wants to draw up an action plan on digital transformation and prepare corresponding bills. The GIZ will advise Ukraine and, in doing so, also engage in an exchange of experience on the corresponding processes in Germany (e.g. in the development of the Federal Government's Digital Strategy). Furthermore, a joint Ukrainian-German presentation of successful transformation processes is planned to be held at the 2023 Internet Governance Forum (multistakeholder platform for discussions on internet governance, initiated by the United Nations).
In order to successfully accompany the necessary sophisticated adaptation processes, the plan is to provide continuous advice on technical matters and processes up to 2025.
A continuation of the project beyond March 2023 up to 2025 is currently under discussion.