all press releases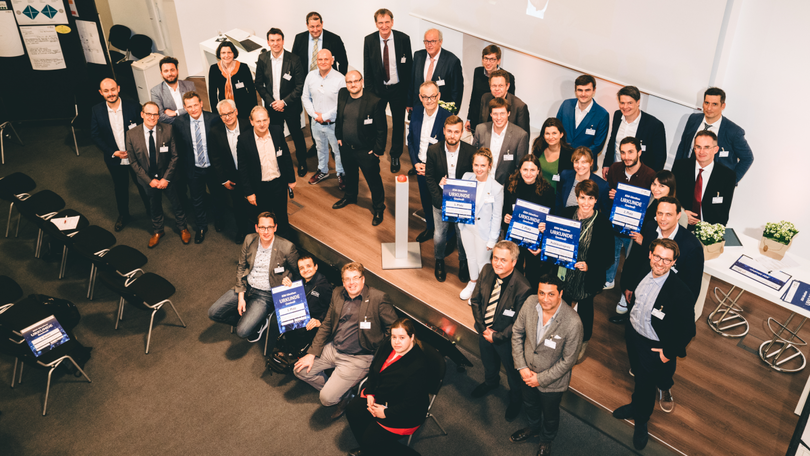 The Federal Government intends to digitalize and significantly speed up planning processes – e.g. for the construction of housing, railway lines, roads or waterways. Building information modelling (BIM) will make implementation of construction projects faster, more transparent and more cost-effective. Today, Federal Ministers Dr Volker Wissing and Klara Geywitz kick-started the Federal Government's BIM Portal, which is designed to support the private and public sectors with digitalizing their construction projects.
BIM requires coordinated data exchange between all stakeholders during planning, construction and operation. This will become possible now free of charge with the BIM Portal, established by the Federal Government. The portal provides support in generating project and product data that can be exchanged among stakeholders through open data formats.
Federal Minister for Digital Dr Volker Wissing said:
Digitalization is the prerequisite for quick planning and construction. Thanks to BIM, construction will become more efficient, cost-effective and transparent. This is why we have been increasingly using digital construction for transport infrastructure. We want BIM to become the standard as of 2025. The new portal will help accelerate implementation significantly. The construction sector will support us in this process of development and change. My hope is that this portal will trigger a true change of culture in construction and lead to the consistent digitalization of planning and approval procedures. "Digital is better" will be our guiding principle for public construction projects in the period to 2025.
Federal Minister for Building Klara Geywitz said:
Digitalization makes construction and operation cheaper and more environmentally friendly. With BIM Germany and its BIM Portal, we are laying the foundation for the broad application of BIM. The BIM Portal allows processes to become more efficient while at the same time optimizing the use of resources, all in one step. It helps us provide affordable housing and tackle climate change as well as counteract the shortage of skilled labour. I am looking forward to bringing the BIM portal to life and accelerating the digital transformation process together with the value chain of the German construction sector and all the other stakeholders.
The Federal Government's BIM Portal:
BIM aims to provide a digital version of all the project-related information on planning, construction and operation right from the beginning so that this data can be processed more efficiently and more quickly. This information can also be accessed easily and quickly at a later time, should any repair or structural maintenance work become necessary.
BIM contributes to more sustainable construction and operation. By connecting planning and operational data at an early stage, it is possible to make a life cycle analysis and predict the carbon footprint of a structure. BIM also allows to assess at an early stage of a project whether, and if so how, construction materials can be reused after demolition. This will save resources.
The BIM portal provides classifications, features, employer information requirements (EIR) and object templates to support public sector clients in defining their information requirements, e.g. for structural engineering, as well as construction supervisors in delivering quality-assured digital building models.
With the portal, the Federal Government will create a uniform terminology. This way, the data exchanged can be used without any media discontinuities. The final objective is to have standardized procedures for construction projects.
In the first stage, users of the BIM Portal will receive standardized templates to prepare their BIM models. Starting in 2023, the portal will provide support in developing and publishing Employer Information Requirements (EIR). In addition, tools for automated monitoring of data in digital building models will be made available in 2023.
The Federal Government's BIM Portal is more than a mere technological platform. It is the start of the Federal Government' s dialogue process with relevant stakeholders from building and civil engineering to drive forward the overall implementation of BIM in Germany. The portal depends on the contributions of all the parties involved.
The activation of the BIM portal is also the beginning of a "BIM Ideathon", which is aimed at finding digital ideas and solutions for speeding up the implementation of BIM. The best solutions and ideas will be awarded prizes. For more information and to register please visit: https://www.bmdv.bund.de/termin-bim-portal
The BIM Portal is designed as an open platform which can be used by all players in the building sector's value-added chain. Apart from submitting suggestions or comments, third parties like local clients, chambers or associations may also upload their own templates and data to the portal, provided that the contents can be used in accordance with BIM standards and without any restrictions or requirements. At a later stage, the aim is to create networks with international platforms such as the "buildingSMART Data Dictionary".
The Federal Government supports the implementation of BIM in the federal construction sector by providing BIM qualification training and advisory services for employees in administrations and in Germany in general, e.g. through standardization, trade publications and information.
For more information on the BIM portal please visit (German only): https://www.bmdv.bund.de/termin-bim-portal
For more information on BIM activities please visit (German only):