all press releases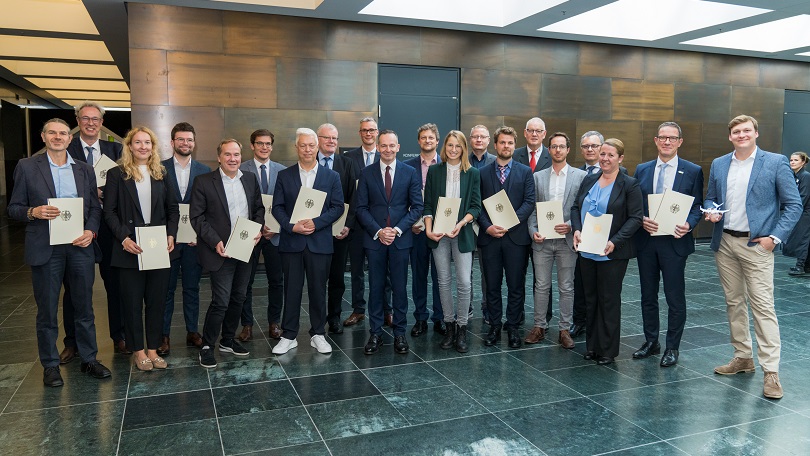 Flying measuring stations, real-time reconnaissance for emergency missions and intelligent transport solutions for the last mile – these are some of the projects for which Federal Minister for Digital and Transport Dr Volker Wissing handed over seven funding certificates for innovative drone projects with a total volume of 4.3 million euros today. The grants were awarded within the scope of the Funding Guidelines for 'Innovative Air Mobility', for which the Federal Ministry for Digital and Transport (BMDV) will provide a total of 15 million euros until 2023. The selected projects cover the thematic fields of aviation safety, data availability, individual and sustainable mobility, saving lives and supplying rural areas.
Federal Minister Dr Volker Wissing:
Drones are among those technologies that can improve our lives tangibly and effectively. For instance, autonomous, intelligent and highly efficient aircraft help us to organize emergency missions more efficiently, collect environmental data and supply rural areas fast and reliably with everyday products. It is important to drive forward these and other innovative applications. For this purpose, we will provide a total of 15 million euros and will deploy this technology in a safe, low-emission and reliable manner.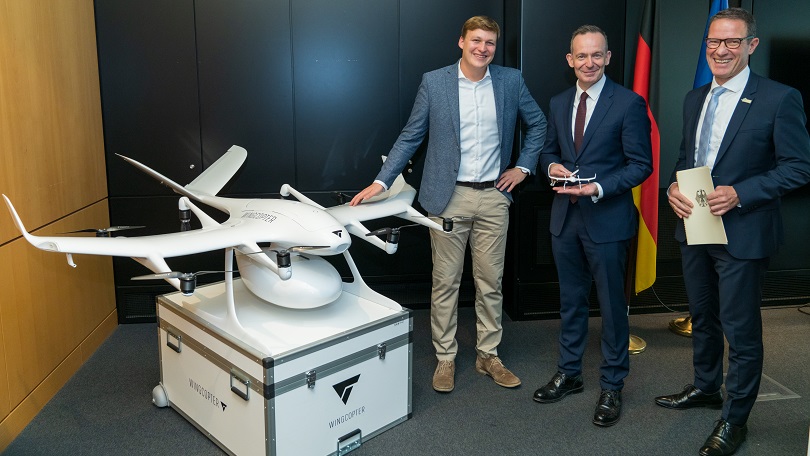 On the projects:
AMICA plans drone missions in emergency scenarios and how to integrate them in the emergency service chain. The project's objective is to draw up legally secure guidelines for these missions. By creating a special mission strategy, it is to be ensured that drones can start from a rescue drone base and can transmit real-time information, for instance, from the site of an accident to the rescue coordination centre or the emergency services involved.
Project partners: Technische Hochschule Ingolstadt, Bavarian Red Cross – federal state head office, Munich
Total funding: approx. 100,000 euros
DroLEx works on fast and reliable delivery of everyday goods by means of drones in combination with cargo bikes for the last mile in rural areas. In South Hesse, products from local retailers are distributed via drones from a mobile depot to surrounding rural communities. This enables easy and reliable deliveries to regions, where deliveries were not possible before.
Project partners: Frankfurt University of Applied Sciences, Wingcopter GmbH
Total funding: approx. 430,000 euros
LiquiDrone develops an innovative and smart liquid hydrogen refuelling system to increase the flying time and the range for fuel cell powered drones. This is based on an improved energy management and a newly developed lightweight tank, which has optimized thermal properties and is equipped with sensors. The system is tested by means of the "ZALbatros" hexacopter – a special research and development platform.
Project partners: RST Rostock System-Technik GmbH, BaltiCo GmbH, University of Rostock, ZAL GmbH (ZAL Center for Applied Aeronautical Research)
Total funding: approx. 892,000 euros
 
CATS carries out research activities regarding the safety of air taxis and possible accident scenarios. This is to be used as a basis for developing a crash test standard as known for road transport. The findings are also to be used for the development of future air taxis and to ensure a high standard for transport safety.
Beneficiaries: FH Aachen - University of Applied Sciences
Total funding: approx. 99,000 euros
UnLuBW develops a drone that is equipped with a measuring system to record air pollutants. The mobile and cost-effective measuring system is to complement existing ground stations. It has the advantage that it can be used flexibly and does not only record air pollutants on the ground, but also in higher altitudes. Within the scope of the project, it is planned to develop a practical guideline for local authorities to make sure they can conduct measurements with drones independently.
Project partners: Institut Stadt-Mobilität-Energie (ISME) GmbH, Eberhard Karls Universität Tübingen, Unisphere GmbH
Total funding: approx. 624,000 euros
AuRa develops an innovative approach to automate risk assessment for drone flights, in particular in the 'special category', for which certain requirements have to be met. Digital and automated procedures save time and reduce costs. This makes it possible to issue more operating licences within a shorter period of time. Faster licensing procedures are necessary to integrate drone flights even better in everyday life.
Project partners: Fraunhofer-Gesellschaft zur Förderung der angewandten Forschung e.V., Droniq GmbH
Total funding: approx. 70,000 euros
AMI-FlyingIN2Air carries out research on Advanced Air Mobility (AAM) and an airport that is specifically prepared for drone and air taxi traffic, where the transport of passengers and goods is handled. Using Ingolstadt/Manching as an example, such an AAM air space is to be developed and maintained, based on a digital twin, until it is ready for approval. This way, technical applications, design and acceptance criteria can be trialled even before they are practically implemented. To integrate AAM into intermodal travel chains, a mobility-as-a-service platform pilot will be developed featuring information on flights, booking and the time saved compared to other modes of transport. The results will be made available to potential interested parties as recommendations for action to implement an AAM airport as well as a guideline on the integration of all necessary technologies and processes.
Project partners: Regionalverkehr Oberbayern GmbH, Airbus Urban Mobility GmbH, Munich Airport International GmbH, amd sigma strategic airport development GmbH, Technische Hochschule Ingolstadt (Technical University Ingolstadt), city of Ingolstadt
Total funding: approx. 2.1 euros
Within the scope of the Funding Guidelines for 'Innovative Air Mobility', the ministry funds, in particular, projects with a practical relevance for the topics new urban mobility, connecting and supplying rural areas, air space integration as well as for fostering societal dialogue to increase acceptance among the citizens. Nearly 100 project outlines have been submitted. Out of the 16 projects selected for funding, ten have so far received funding. An overview of all projects funded within the scope of the current and prior calls for ideas and applications for funding for unmanned aerial systems can be accessed under www.bmdv.bund.de/luftmobilitaet. (in German only)