all press releases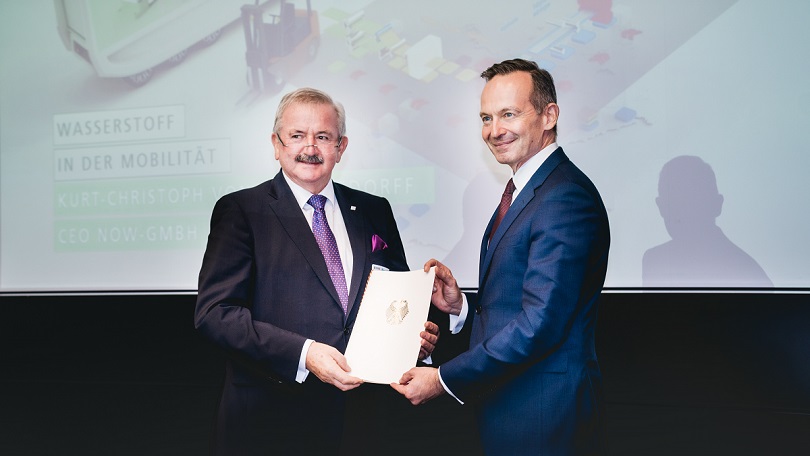 The Federal Ministry for Digital and Transport (BMDV) provides financial assistance to ramp up the fuel cell production for heavy goods transport in Germany. In Berlin today, Federal Minister Dr Volker Wissing handed over a funding award letter granting 80 million euros to "H2GO – National Fuel Cell Production Action Plan", a joint project by 19 Fraunhofer institutes. The funds come from the "Future Fund for the Automotive Industry".
Dr Volker Wissing, Federal Minister for Digital and Transport:
The alliance with the Fraunhofer Society takes the development of fuel cell production to a new level. By providing financial assistance, we want to help translate successful research and development into marketable products in the field of fuel cell technology – ideally at an industrial scale. The solutions developed by the project will be made available digitally to all partners involved in a virtual reference factory. This will boost the competitiveness of our national industry and contribute significantly to reducing the costs for hydrogen-powered vehicles in heavy goods transport. There is an urgent need for climate-friendly solutions in this field.
Despite the progress made with regard to consumption and exhaust gas technology, CO2 emissions are still on the rise due to an increase in road haulage operations. Thus, especially in heavy goods transport, the need to develop alternatives to fossil energy sources is high.
By providing financial assistance to the H2GO project, the BMDV contributes to pooling the activities of 19 Fraunhofer institutes in a total of 9 federal states. The 19 institutes are working to create the conditions for efficient large-scale production of fuel cells that convert hydrogen to electric power on board a vehicle. H2GO targets particularly small and medium-sized enterprises that represent the entire value chain of fuel cell production - from production technology through machinery and plant manufacturing to the on-board use in heavy goods vehicles.
"Hydrogen plays a key role in the transformation of our energy system. For hydrogen to be able to become universally established as an energy source, we must produce it at a competitive price, in sufficient quantity and in a climate-neutral manner and use it with a high CO2 reduction rate. In heavy goods transport, particularly cost-effective, robust technologies are required for an economical production of fuel cells", said Prof Reimund Neugebauer, President of the Fraunhofer Society. "H2Go will make a crucial contribution to an economically viable and industrial-scale production of fuel cells. This will not only be a major step in our efforts to tackle climate change but also help fuel cell production evolve into a key area of competence of Germany and Europe as a competitive business location."
Together with local networks, the 19 Fraunhofer Institutes will develop new production solutions in regional technology hubs.
The superordinate "Virtual Reference Factory" is to make the digital presentation of the developed production solutions available to all partners involved. This will create a virtual reference architecture for fuel cell production.
The Future Fund for the Automotive Industry
The Future Fund for the Automotive Industry was initiated in 2020 as part of the Federal Government's Concerted Action on Mobility to support the automotive industry's transformation towards sustainable and digital mobility. In the period to 2025, it will provide a total of one billion euros in funding to digitize the automotive industry, boost sustainable value chains for the mobility of the future as well as promote transformation hubs.
After 3:00 p.m. today, a photo of the Minister handing over the funding award letter can be downloaded via the following link: www.bmdv.bund.de/fraunhofer-institute-fotos