all press releases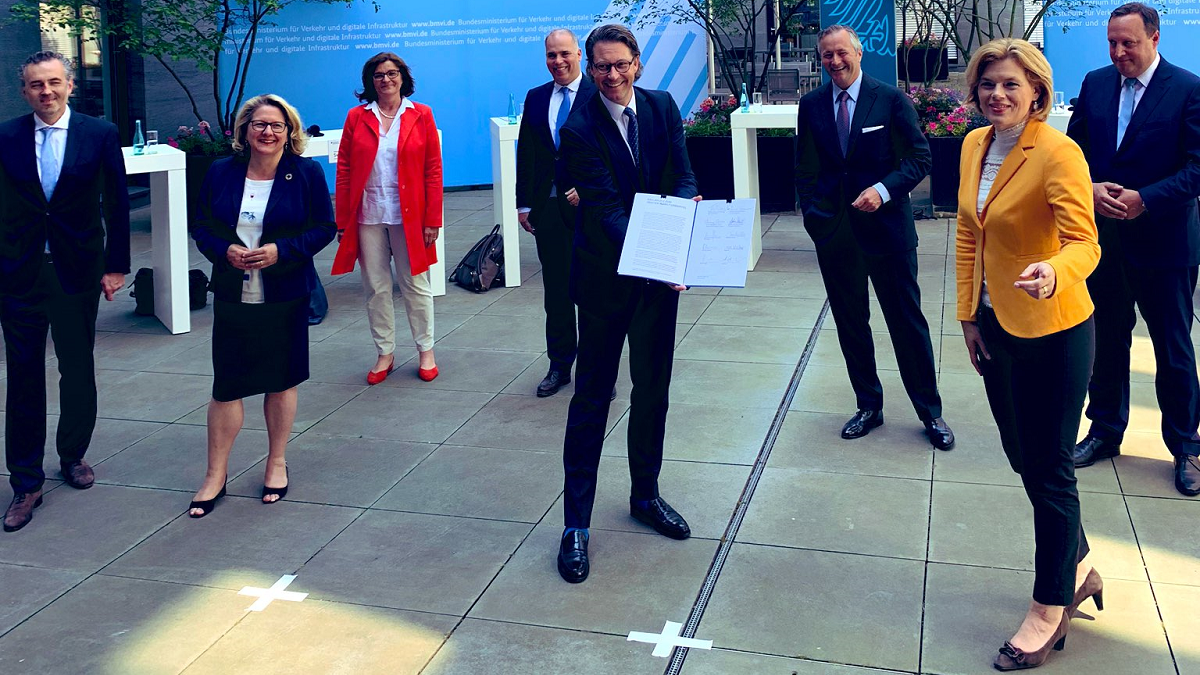 The mobile communications networks in Germany have improved. Since the first Mobile Communications Summit (12. July 2018), 18,000 masts have been erected or upgraded by the companies involved at the time. A better network for more than 15 million people. Today, more than 99 percent of households have LTE reception, and during the Covid-19 pandemic one thing has become clear: the safety and stability of the German networks was never jeopardised, although the user behaviour of people and businesses changed significantly.
The major challenges remain, and we must continue to address them. In rural areas in particular, there are white spots and households without coverage. In order to identify dead spots, the Federal Government presented a strong package of measures back in November last year with the mobile communications strategy. By agreeing on the key elements of mobile communications funding, among other things, a major step has been taken today towards implementing these measures.
Federal Minister Andreas Scheuer:
I want no one to be without a connection – mobile surfing and telephone calls must be possible any time and anywhere. We must not lose time. That is why we want to provide funds to companies that erect masts and establish the corresponding connections in the future. These companies can then make the masts available to the mobile service providers on a non-discriminatory basis – or, put simply, let them at a low cost. In doing so, we have struck a balance between the interests of all those involved. If we combine this with fast approval procedures of just three months and provide information in a transparent as well as neutral manner, we will succeed in creating a better network throughout Germany.
Federal Interior Minister Horst Seehofer:
The Corona pandemic has shown how important mobile communications are to all of us. Like water, electricity and heat, nationwide mobile communications coverage is a key component of our modern society. This applies not only to people in cities, but especially also in rural areas. Mobile communications coverage for all – without dead spots and without white spots – is a central prerequisite for the convergence of living standards throughout Germany. All those involved – policymakers, network operators, federal, state and local authorities – are working hard to achieve rapid progress here. As Minister of Community, this is a key structural policy concern to me.
Federal Minister of Agriculture Julia Klöckner:
Unfortunately, if you go to the countryside today you still end up in a dead spot far too often. However, high-capacity digital infrastructure is crucial for the future of rural regions. The possibility of working, learning or consulting the doctor online from home will become increasingly important in the future – especially for life far away from the conurbations. And this is not just about providing coverage to every household – we need 5G on every field, in every forest and every barn. Farmers who want to invest in new machines need fast mobile communications now if they want to be able to work more precisely and thus in a more resource-saving and efficient manner. This is in everyone's interest but is not conceivable without digital technology.
Federal Minister Svenja Schulze:
The digital transformation and nationwide communications networks also offer many opportunities for environmental protection and climate change mitigation. This is another reason why the 5G roll-out is a good thing. What is important is that the high level of preventive health protection, i.e. the effective protection against electromagnetic fields from mobile phones that already exists, be maintained. Mobile communications networks can also have environmental impacts. With the Digital Environmental Agenda, the Federal Ministry of the Environment is focusing on the energy and raw materials needs of the 5G networks and seeking to reduce their environmental impact. Not least, nature conservation standards must be observed during network roll-out.
Minister of State to the Federal Chancellor and Federal Government Coordinator for Digital Affairs Dorothee Bär:
It is important to me that you can not only make calls anywhere in Germany, but that you can also use your smartphone and apps on the go. Dead spots must finally become a thing of the past. I am pleased that, as the Federal Government, we share this goal with the federal states, the local government associations and the mobile network operators, and that we are moving forward together in this matter.
Thomas Jarzombek, Commissioner for the Digital Industry and Start-ups of the Federal Ministry for Economic Affairs and Energy:
High-performance and nationwide mobile communications are essential for the infrastructure in Germany. In order to close the remaining gaps in mobile communications coverage, network operators, the Federal Network Agency, the planned mobile communications infrastructure company, the federal states and the local authorities will work closely together. Lean structures in the organisation are important, so that the construction of the new transmitters can start in a timely manner.
Verena Göppert, Deputy Managing Director of the German Association of Cities for the local government associations:
The common goals and projects agreed today will advance mobile communications networks in Germany. If we join forces, we can establish nationwide networks in no time. We must succeed in eliminating dead spots and developing the network capacities that are needed in rural and urban areas. The demand for mobile communications data continues to rise. The local authorities are supporting the telecommunications companies in their search for suitable locations for the required transmitters.
Markus Haas, CEO of Teléfonica Deutschland | O2:
Teléfonica Deutschland|O2 has installed thousands of new mobile communications units since the last summit, thereby significantly improving the network quality. As a result, high-speed mobile data connections have been made available to millions of additional citizens. We are working hard to close the last 4G gaps. In 2020 we will also launch 5G.
Dirk Wössner, Member of the Board of Management of Deutsche Telekom AG:
We need the active involvement of all relevant parties for nationwide mobile communications networks. Faster authorisations for new masts are exactly the right way forward, as is the cooperation between network operators in the development of inadequately covered areas. We are sticking to our commitment: By the end of 2020, 99 percent of households in Germany will enjoy LTE coverage from Deutsche Telekom. In addition, we will provide 5G coverage to half of the population by the end of 2020.
Hannes Ametsreiter, Vodafone CEO for Germany:
Corona has shown that Germany's digital infrastructure is the lifeblood of the Republic. In order for the crisis to be followed by a drive of the digital revolution, even more coverage is needed in even more places. And we need a climate in which operators can continue to invest in their networks. The support programme adopted at the summit is very helpful for this.
Ralph Dommermuth, CEO of United Internet AG:
The Mobile Communications Summit has once again demonstrated the importance of cooperation in the development of digital infrastructure. This principle was set out in the conditions of the 5G frequency auction, including the use of national roaming during the construction of a new mobile communications network. As newcomers, we hope that today's summit has brought us closer to finding a solution to this controversial issue.
The full summit declaration can be found at: www.bmvi.de/mobilfunkgipfel2 (in German)