All News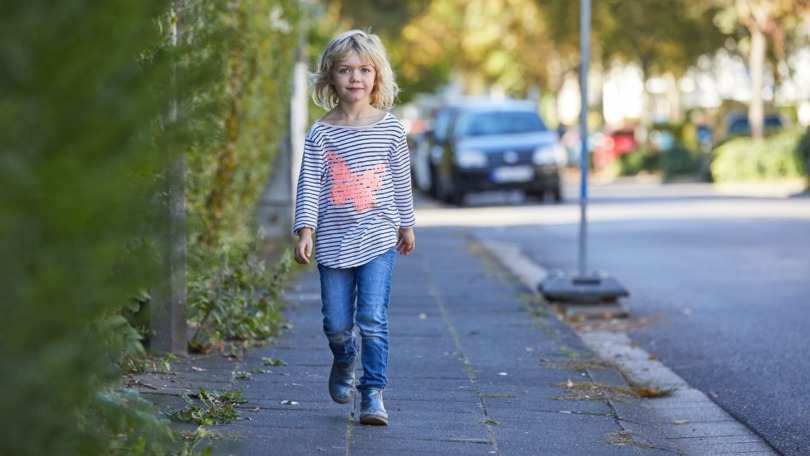 In 2021, 22,272 children were involved in road traffic accidents in Germany. 49 of these were killed; 18 children were passengers in a passenger car, 19 pedestrians and 8 cyclists.
The protection of children is a special concern of the Ministry. Therefore, we support different scientifically well-founded and creative programmes and measures to increase road safety for children, where everybody involved – whether that be parents, kindergartens or schools – is highly committed. There are different ways to teach children how to become prudent and careful road users in the future.
The classical approach: "Children and traffic"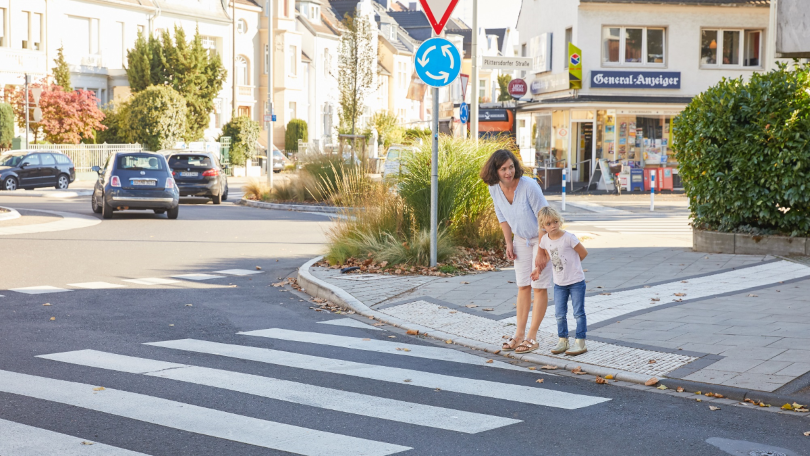 The "Children and Traffic" ("Kind und Verkehr") training programme for parents of the German Road Safety Council (DVR) is a classic approach and unique in Europe.
This programme addresses parents because they spend a lot of time with their children and therefore have a wide range of opportunities to provide continuous road safety education. In the "Children and Traffic" training programme, experts inform fathers and mothers during free events held in kindergartens on the question of how children should be prepared for road use. For this purpose, the parents are provided with knowledge about how children develop as this characterizes their behaviour.
The facilitators provide parents with practice- and child-oriented advice and suggestions for all traffic situations, whether children are involved as pedestrians, cyclists or passengers in passenger cars, in an urban or rural area. More information on the "Children and Traffic" programme (in German only).
The digital offer for the safety of children in road traffic is new: a hidden object that addresses the central aspects of children's participation in traffic, on foot, by bike, in the car. With a click of the cursor, the individual scenes can be enlarged and the associated background information can be called up. In addition to explanatory photos and film sequences, there are many useful tips, further information and links to brochures.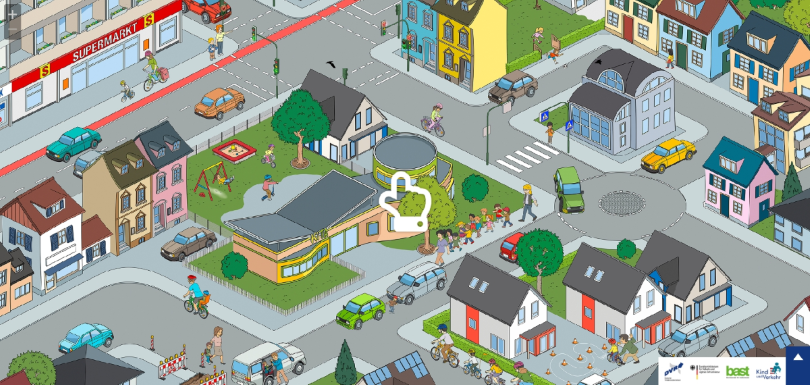 This way, the complex world of road traffic can be explored with lots of fun.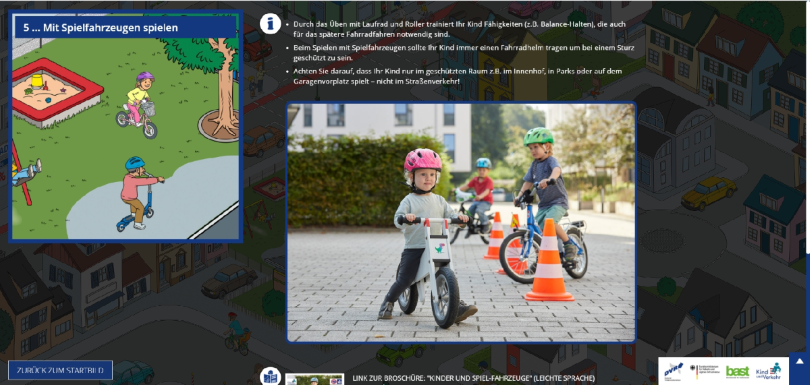 The interactive "Kind und Verkehr - Info Bild" is now available free of charge on all digital devices (in German only).
The learning by playing approach: "Children in road traffic"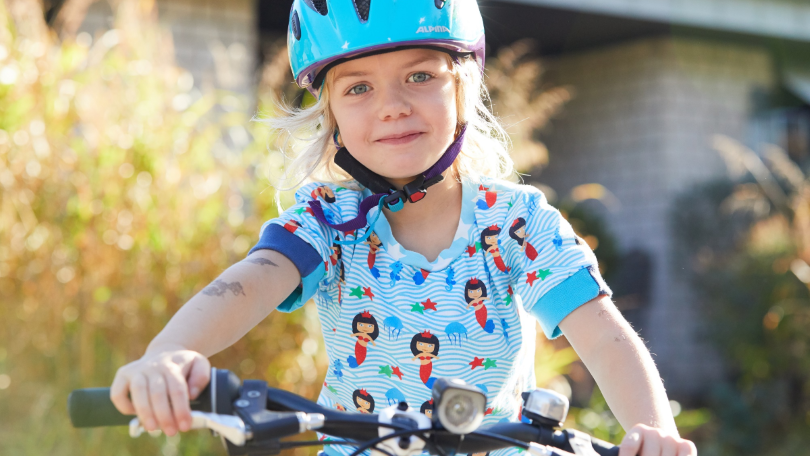 The German Accident Prevention Organization (DVW) provides road safety activities in kindergartens with the "Children in Road Traffic" Programme using the learning by playing approach. Kindergartens are given professional and comprehensive support in their road safety activities by trained volunteers of the DVW. In addition to practice-oriented recommendations that also take the particular features of the institutions into account, kindergarten teachers are provided with instructions for movement and perception games that train the children's ability to react to situations as well as move safely on the roads. The highlight is the Road Safety Day that the Accident Prevention Organization holds in the kindergarten. Parents, siblings, other family members and friends may also join in. Support is provided not only through in-depth advisory activities but also by means of traffic courses, traffic sign clutters and an accident simulator with crash test dummies, which are also a fun way of teaching children. More information on the "Children in Road Traffic" programme (in German only).
More detailed information is provided by the following brochures, which can be downloaded from the DVW website free of charge (in German only).
"Children as pedestrians in road traffic",
"Riding on wheels for pre-school children",
"Learning how to cycle",
"Learning how to cycle for children between 7 and 10 years",
"Learning how to cycle for children from 10 years" .

Bear-Tastic: "Captain Bluebear" Road Safety Primer
Children are also addressed directly – with the "Captain Bluebear" road safety primer (in German only), which is redesigned each year to cover topical issues from all fields of road safety and distributed to many kindergartens and primary schools in Germany. In these magazines, the popular characters Captain Bluebear, Hein Blöd and the three little bears star in funny stories showing what dangers road traffic holds and what children have to do to move correctly and safely on the roads. In this way, children are made aware of the dangers inherent in road traffic in a humorous and playful way.
From the blind spot: "
Blicki blickt's

"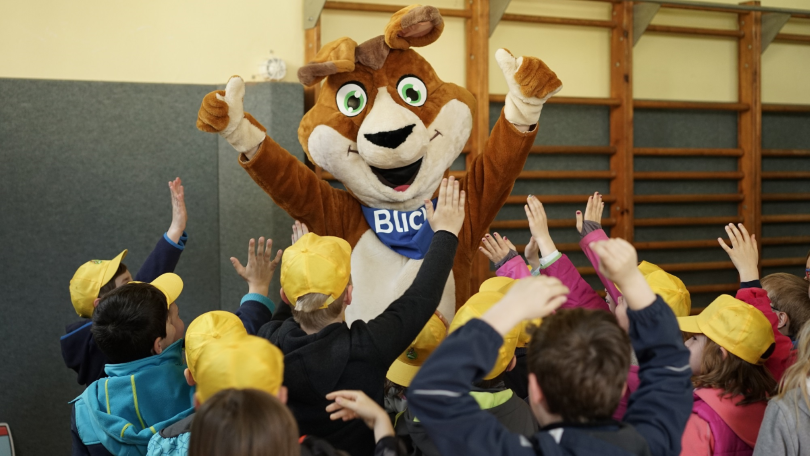 At school events, Blicki the Kangaroo teaches primary school children about the dangers of the "blind spot". "Blicki blickt's" not only provides teachers with teaching material to prepare a school event but also supports schools in organizing this event.
The main attraction is a truck demonstrating how a whole school class can disappear in the truck's blind spot. The pupils can sit in the truck driver seat and see for themselves, so that in the future they will be able to better assess the danger that a turning vehicle poses. Furthermore, they practice how to behave correctly and carefully when they are near a truck turning right. More information on "Blicki blickt's" (in German only).
"School travel plans made easy"
The routes to school should be as safe as possible for all children. To make sure that parents know the safest route, every school should have a school travel plan. A school travel plan identifies safe crossing points, danger spots and how to behave there, as well as safe routes from the children's homes to school.
The Federal Highway Research Institute (BASt) has developed a guide on drawing up a school travel plan. This guide is addressed to parents, schools, local authorities, police forces and everybody intending to draw up school travel plans. It contains important information and useful sources to draw up a good school travel plan yourself without requiring excessive effort and expenditure. The "School travel plans made easy" guide ("Schulwegpläne leichtgemacht") can be ordered from the Federal Highway Research Institute or downloaded from their website free of charge (in German only).
Only the right way is also the safe way: "Children in cars"
In Germany, children under 12 years of age and less than 150 cm tall have to be restrained in a child car seat suitable for them when riding in a car. Today, 80 percent of all children riding in cars in built-up areas are restrained in suitable child car seats. However, surveys show that only 35 percent of the children are properly secured in the child restraint system. A brochure of the Federal Highway Research Institute contains information on how to restrain children in passenger cars and typical mistakes made in securing them as well as on the different restraining systems.
The "Safety for Children in cars" brochure can be ordered from the BASt or downloaded from their website (in German only).
Transport of children on cargo bikes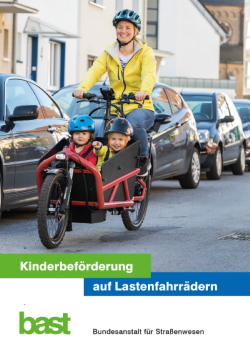 Cycling is all the rage. Cargo bikes are also increasingly being used - be it for transporting weekly groceries or for transporting children. The Federal Highway Research Institute (BASt) has published a brochure with tips on equipping and handling cargo bikes from the first test ride to everyday use. With the focus on the transport of children, useful equipment features are mentioned to support the selection of a suitable cargo bike. In addition, motor exercises for handling a cargo bike are described, which should be completed before using the bike in traffic. The brochure "Child transport on cargo bikes" can be ordered from BASt or downloaded from the website.