All News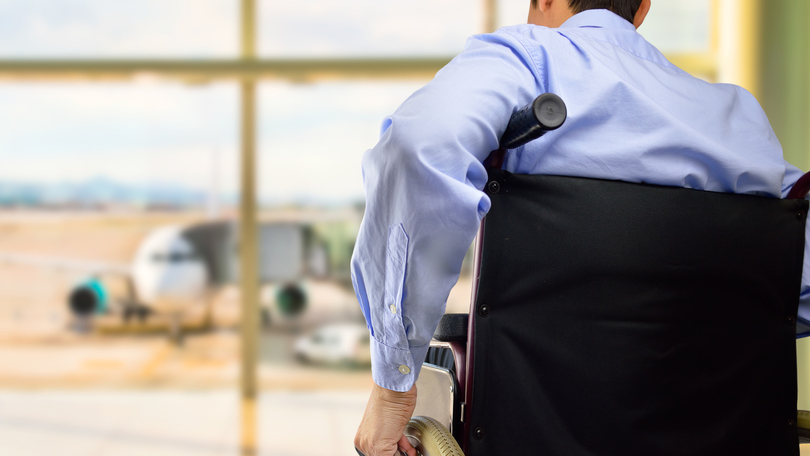 Europe-wide rights of air passengers
On the basis of Regulation (EC) No 1107/2006, you have been enjoying significantly improved rights since 26 July 2008 when travelling by air as a disabled person or a person with reduced mobility.
• Airports,
• air carriers,
• tour operators
are obliged to provide special support and information services that make it easier for you to make the necessary preparations for a flight and to travel by air.
These services have to be provided without additional costs.
Prerequisites
Your cooperation is required in order to make your flight as convenient as possible and without unnecessary delay.
To assert your claim for assistance services it is necessary to notify the air carrier or tour operator of your special needs in time, at least 48 hours before departure.
Moreover, you are required to arrive at the time indicated for check-in, or if you already want to be supported by the airport before check-in, in good time at the contact points designated by the airport, e.g. entrance area or information desk.
If desired, you will be given assistance for check-in and you will be accompanied through security screening.
Examples of support services
Booking and carriage
Air carriers and tour operators may not normally refuse to accept your booking or deny your carriage to or from any European airport on the basis of your disability or mobility constraint. Exceptions are, however, possible if applicable safety regulations so require or if technical obstacles prevent this, e.g. the size of the aircraft cabin or of doors.
Assistance at airports free of charge
Airports have to designate contact points to enable you to announce your arrival and to request assistance. If you so desire and inform the airport thereof 48 hours before departure, it has to ensure continuous assistance from your arrival at the airport to your departure.
Assistance on board free of charge
Air carriers are normally obliged, among other things, to carry mobility aids or assistance dogs free of charge on flights starting or finishing in the European Union. There may be restrictions due to safety rules or a lack of space. Please inform the air carrier at least 48 hours before departure about the services required.
If something goes wrong
If you are of the opinion that your rights were not observed you will first of all have to contact the air carrier or the airport. If no agreement can be reached you may inform the national complaints body for the enforcement of rights of air passengers about the content and the outcome of your complaints.
The Federal Aviation Office (Luftfahrt-Bundesamt), which is responsible in Germany for such matters, will examine whether and, if so, to what extent the airport or the air carrier have violated their obligations. If the complaints are justified it may impose penalties on the companies but not assert claims for damages on your behalf. You will have to assert such claims vis-à-vis the air carrier under civil law.
German complaints body:
Luftfahrt-Bundesamt

Hermann-Blenk-Straße
26
38108 Braunschweig
Phone 4905312355
Fax: + 49 (0) 531 2355
Email address: fluggastrechte@lba.de