All News
"Mobility in Germany" is "the" extensive cross-sectional study in Germany which, every few years, collects data on the everyday mobility of Germany's residential population. Important key questions are: How often and for what purpose are you on the move? Which means of transport do you use? What distances are covered and how long are people on the move? Apart from nationwide basic parameters, the Federal Government also considers mobility patterns that are differentiated according to socio-economic and regional or spatial factors to be of great importance to this survey. To make this possible, approximately 35,000 households were last surveyed between May 2016 and September 2017 on behalf of the Federal Government. More than 60 regional partners (e.g. federal states, regions, towns and cities and integrated transport associations) participated in this survey in order to be able to deepen the findings in regional terms and to compare them at national level. On behalf of these partners, more than 120,000 households were additionally surveyed. With a total of more than 155,000 participating households, the 2017 Mobility in Germany study is among the largest mobility surveys worldwide.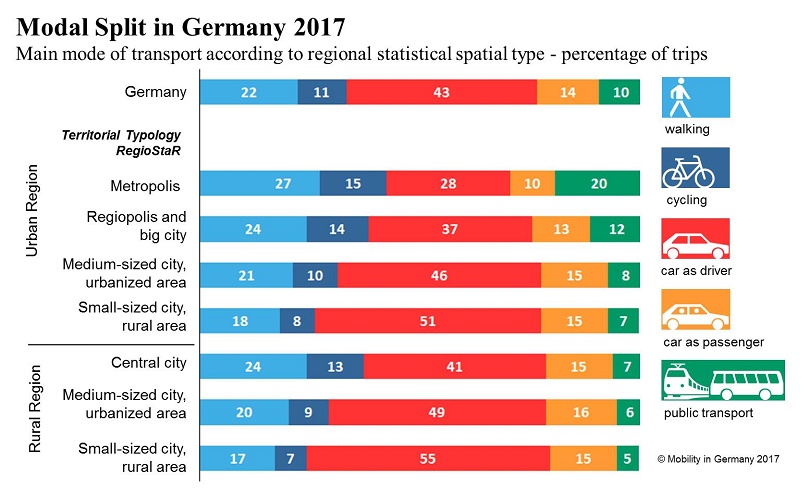 The previous surveys were last conducted in 2002 and 2008 on the basis of a largely comparable approach. This makes it possible to identify changes in the most important mobility parameters. The first survey on everyday mobility was conducted on the territory of the former Federal Republic of Germany in 1976 - at that time it was called "Kontinuierliche Erhebung zum Verkehrsverhalten" (KONTIV '76 - continuous survey on travel behaviour). It was followed by KONTIV '81 and KONTIV' 89. In 2002, the first study in reunified Germany was carried out under the new name "Mobilität in Deutschland" (MiD 2002 - Mobility in Germany).
The MiD is an element of a "modular system", consisting of interviews and surveys which the Ministry uses to measure the most important aspects of mobility behaviour and types of transport - i.e. private passenger transport, goods transport, commercial passenger transport. In this system, everyday mobility is supplemented, besides the MiD, by continuous surveys of the German Mobility Panel at one-year intervals. Thus, the German Mobility Panel is an indicator of everyday mobility between the major periodical mobility surveys, such as the "Mobility in Germany" study of the Ministry.